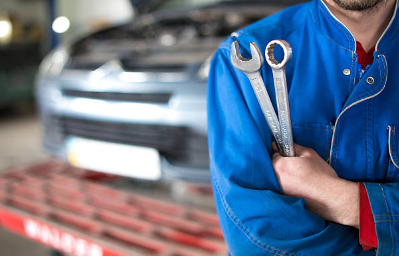 When school is out and summer temperatures heat up, it's a good time to hit the open road! Whether you're heading to the beach, visiting family and friends, or exploring America's great outdoors, a great way to spend summer vacation is on a road trip. Nearly 90 percent of Americans take summer road trips, driving an average of 660 miles per trip.
From flat tires to fender benders, unfortunately, summer road trips don't always go smoothly. Proper prevention and planning may take a little more time up front, but it may reduce the risk of a breakdown or accident occurring on your road trip.
Keep these vehicle tune-ups and safe driving tips in mind before you hit the road:
1. Get your car serviced.
Is your car up to date on regular maintenance? When we're busy, it's easy to skip or postpone recommended service. Of course, it's also much easier to handle a breakdown when you're a few miles from home rather than being in the middle of a long road trip. Tune-ups, oil changes, battery checks and tire rotations can go a long way to reducing the risk of a breakdown. Check your manufacturer's preventive maintenance schedule and take your car in for a quick service.
2. Check your tires.
Are your tires ready for a long trip? In addition to rotating and balancing your tires per the manufacturer's recommendations, check your tire pressure and tread depth. A heavy load could increase the risk for a flat. Even under normal circumstances, tires may lose one psi (pounds per square inch) per month. Check tire pressure before you leave and bring a tire gauge with you on the trip. Finally, you can use the "penny test" to assess your tread depth. Insert a penny into each tire groove with Lincoln's head upside down. If you can see all of Lincoln's head, this may be a sign your treads are worn out and you need new tires.
3. Pack an emergency roadside kit.
Even a well-maintained vehicle can break down, so keep supplies like jumper cables or a flashlight, in the car. Be prepared for breakdowns, especially in remote areas where cell service may be limited. The National Highway Traffic Safety Administration recommends stocking your roadside kit with a cell phone charger or back-up battery pack, first aid kit, flares, jumper cable, tire pressure gauge, jack (and ground mat) for changing tires, work gloves, basic repair tools, a flashlight and duct tape. Keep bottled water and snacks on hand in case you find yourself stranded. You can also call roadside assistance for help!
4. Brush up on your defensive driving skills.
Every eight seconds, someone is hurt in a car crash and distracted drivers are a leading cause of these accidents, reports the National Safety Council. Be smart about your safety. Delegate the GPS navigation to your road trip companions, never send text messages while driving, and save the phone calls for later. Be a safe, defensive driver: plan for the unexpected, control your speed, don't tailgate, and never make assumptions about other drivers' intentions.
5. Buckle up.